Part 1: The election thief's favorite NM senator is hiding his backers and clients
Daniel Ivey-Soto is an attorney, Democrat Senator for District 15 (Northeast Heights of Albuquerque), and owner of an organization called Vandelay Solutions that advises County Clerks from all 33 New Mexico Counties on technical and statutory issues. Ivey-Soto made headlines last year when he was removed from a committee appointment by a fellow Democrat over sexual harassment allegations.
Scrutiny into Ivey-Soto's conduct is mounting as another complaint was filed against him this week – this time with the Attorney General's office. Ivey-Soto was granted 501(c)(3) status by the IRS for his organization Vandelay Solutions in 2019. But according to the Attorney General's office, Ivey-Soto has not filed a 990 form for the past two years, making him out of compliance with the state. 990 forms are required to be filed with the state each year to give an overview of the organization's activities, and detailed financial information – for example, anyone who contributed over $5,000 must be listed. By failing to file a 990 form, Ivey-Soto effectively hides who he has contracts with and who may be donating to his organization.
When asked for comment, Ivey-Soto denied being behind on submitting paperwork to the Attorney General. A representative from the AG's office, however, stated "he is out of compliance."
But the problems goes deeper than missing paperwork. 501(C)(3)s are provided a "non-profit" designation – the same one given to churches, charities, and educational thinktanks. A 501(c)(3) organization is also forbidden from using its activities to influence legislation in a substantial way, including participating in any campaign activities to support or deny any particular political candidate. They are typically not permitted to engage in lobbying. However, a significant portion of the activities of Ivey-Soto are clearly fall into these forbidden categories.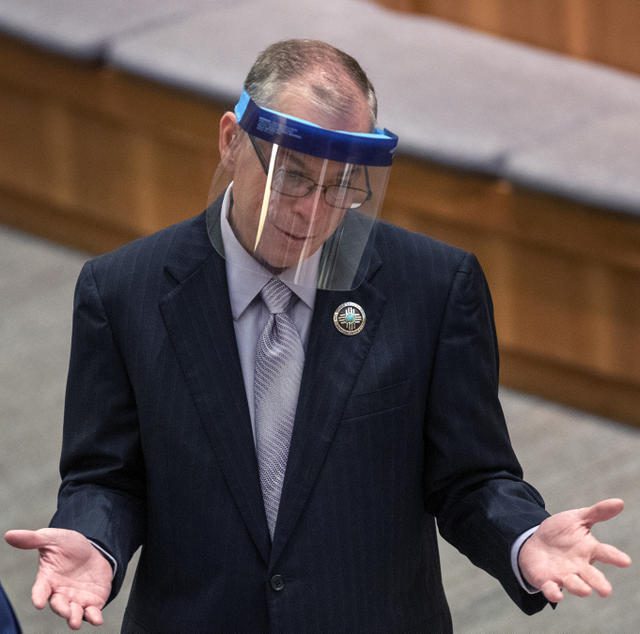 For example, Ivey-Soto has made maximum campaign contributions to fellow Democrats throughout the legislature, who then sponsor bills that he writes or chair the committees that approve his bills before they go to the New Mexico senate for a vote.
Ivey-Soto's highly partisan political shell game has gradually, but systematically, changed the election code in New Mexico to favor the interests of out-of-state private corporations like Dominion Voting Systems. Another hallmark of his legislation is to conceal meaningful auditable trails favoring the vendor, and to transfer greater power to top-down authorities like the Secretary of State, instead of local election administrators that are supposed to be directly accountable to their constituents.
Vandelay Solutions also has contracts with numerous county clerks in New Mexico where, according to his website, Ivey-Soto "provides adult educational services and technical assistance to local government officials in the public service areas of administration of elections, property record recordation, licenses issuance, conduct of public meetings and inspection of public records."
Ivey-Soto does not limit himself to technical advice, however. This journalist obtained an email dated October 26, 2021, that was addressed to all 33 New Mexico County clerks. The subject of the email was a citizen-driven election vulnerability investigation report that had been sent to all 33 county clerks highlighting massive problems with New Mexico's voter rolls and election data. A second report was produced by national experts revealing at least 17 massive system vulnerabilities and 13 violations of the state election code. Ivey-Soto advised all 33 county clerks to ignore the report, claiming it contained no factual information.
Also following the 2020 election, Dave Gallus, a Republican candidate in Dona Ana County, filed an ethics complaint against Ivey-Soto with the Legislative Ethics Committee. Ivey-Soto's legislation removed bi-partisan oversight and put county clerks who were on the ballot in charge of handling the very absentee ballots that would determine the outcome of their own races. At the time the legislation was passed, Dona Ana County was in a contract with Vandelay Solutions. Meaning Ivey-Soto's client, County Clerk Amanda Askin, was a direct beneficiary of the temporary legislation that removed oversight from the 2020 election. Gallus's complaint alleged that this was improper. Gallus also questioned the appropriateness of Vandelay's 501(C)(3) status.
"Ivey-Soto is using Vandelay Solutions to affect political outcomes, meaning his 501(C)(3) designation is not only wildly inappropriate, but if he were investigated properly, his actions would be found to be illegal. Failing to file the paperwork that discloses his donors during the most objectively corrupt election administration in history shows he is at best incompetent as an attorney, or at worst, illegally hiding his backers. An attorney should know better," said David Clements, New Mexico attorney and election integrity advocate.
Vandelay Solutions' alleged failure to abide by New Mexico tax law could have far-reaching effects. Vandelay Solutions has current contracts with several New Mexico Counties. If Ivey-Soto lied to the IRS about the partisan nature of his activities and isn't in compliance with the state tax code, those counties may have to answer questions from their residents as to why they are dealing with Ivey-Soto at all.
Estancia News reached out to Ivey-Soto for comment on his apparent conflicts of interest. He denied any wrongdoing and pointed to Senator Jeff Steinborn, Representative Nathan Small, Representative Angelica Rubio, and Representative Micaela Lara Cadena as being members of non-profit organizations who also serve in the legislature. All the legislators he named are Democrats from Dona Ana County. Estancia News does not yet know if these members of the legislature write legislation that directly affect their paying clients, or make maximum donations to colleagues in the legislature, but we will be investigating those questions in the future.
This is the first article in a series on Daniel Ivey-Soto. Check out the other articles here:
The public can provide tips to the Estancia News concerning this or other stories by sending an email to: [email protected].
Latest posts by The Editor
(see all)